Let's build a network that meets your exact needs
Here at Visitor Aware, we want to supply you with the tools that will help secure your facility. We have no interest in selling you on components that you do not need. Browse through the options and contact us with any questions.
Badge Printer
To compliment your check in process, you may also add the Brother QL-810W Wireless printer. When enabled through the Visitor Aware check in application, the visitor check in process will automatically print a visitor badge complete with their photo, destination, and time of arrival to make identifying visitors easier for staff.
Printer label refills can be found here.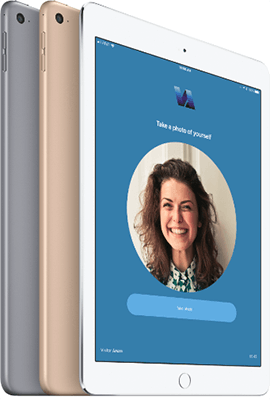 Apple iPad
In order to use the services provided by Visitor Aware we recommend using an Apple iPad for your check in kiosk. The base model iPad, and/or previous generation iPads are fully supported by our iOS application.
The Visitor Aware check in app is also available for iPhone 5 and above to make the check in process easier for locations with security officers.
Webcam
While iPads are great, they may not be the right fit for your facility. Allow the Logitech HD Pro Webcam C920 to go to work for you! This is an excellent compliment to Visitor Aware's check in process for your office staff to use.
Accessories
Some accessories that may be helpful
iPad Table Mount
A secure iPad kiosk enables you to place your check in device within easy view of front desk staff, and visitors while also preventing any tampering. These heavy duty metal stands are inexpensive, assemble in minutes, and their minimalist appearance compliments your existing front office configuration.
iPad Stand
Made by the same company as the above mount, this stand's simplistic design will fit right in with your current office decor while providing a secure spot for your check in device.

Let us know how we can help!
P.O. Box 50634,
Mesa AZ 85208